GT Management had a succesful season with new accomplishments thru the year. Athletes´ Representative Hans Üürike talks about some of the highlights of the Olympic Year.
Physically challenging but very rewarding
I was freezing in a tent on mountains in Morocco, when a text message arrived on that cold night in April: "Fedrick took the world lead with 68.02m". Of course I woke up at 3200m altitude, came out of the tent and started working on this. Fedrick Dacres competed in La Jolla and won the meet with new PB and WL of 68.02m, our athlete Daniel Stahl was second with 66.42m. Awesome emotion and I will remember this moment for the rest of my life – sending out fantastic press releases in the middle of nowhere and climbing the highest mountain in North-Africa (Toubkal 4167m) the next morning.
136th athlete to throw over 21m
Tim Nedow had nearly a perfect indoor season in 2016. I did not have to be on mountains to remember his accomplishments during those 2 months. Tim improved his indoor PB to 21.33, which makes him the 136th shot putter in the event history to throw over 21m. Tim also won the IAAF World Indoor Tour title – also becoming the first winner of this series. Tim achieved 7th position at World Indoor Championships held in Portland.
From youngster to a strong man
The guy who impressed me the most this season was Mesud Pezer, who built up his season from throwing constantly over 20m and performing on the circuit in Europe. Highlight from this season was him throwing 20.58m and qualifying for Rio 2016 Olympics. I was really happy to see him making to  the final at European Championships Amsterdam. After the qualification we had nearly impossible challenge to find him new throwing shoes. The ring was so slow and Mesud needed some brand-new slippery shoes. So we called everybody we knew and finally got the right shoes from and Italian thrower. Thank you Sebastiano!
The day we waited for
It was a sunny August day in Sollentuna, Sweden – Daniel Ståhl had a birthday the day before, winning Swedish National title in Shot Put. But the main show and birthday present was coming in 28th August. It was the 6th round in the discus final competition, when Daniel released the longest throw of his career – 68.72m and a World Lead. Daniel was jumping around the field and celebrating like crazy – video of this was uploaded to social media and within 3 days, this video got 59 325 views on Facebook. Even European Athletics FB page shared it. Rest of Daniel´s season was very good – he won his first Diamond League meet in Brussels and achieving overall 2nd position at Diamond Race. Good job Daniel!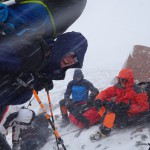 Fight mode is on
When people are thinking about a vacation, usually a white sandy beach and a cold drink in hand comes to mind. Well, this is not a vacation I had in mind. It was an intense season and I did not have much time to train myself during the summer months. But after the season I had a possibility to join an expedition to Caucasus mountains in Georgia. The plan was to conquer the 5047m Kazbek mountain within 10 days. Unfortunately the weather had some other plans and we were on survival mode for many days up there. I remember a night at base camp on 3700m elevation – freezing -15 degree cold in a tent, huge snow storm and almost no sleep at all. But I was lying there and thinking back to the management season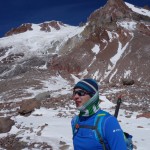 we had in 2016. I was grateful to have a job like that and that I have a chance to be in the big game. I love working with my throwers and enjoy every day of it.
Next morning we started climbing the third highest mountain in Georgia – everything went brilliantly until we reached the glacier. Huge crevasses (at least few hundred meters deep on both side) and glacial winds made it impossible to go further. At that point we had reached 4187m and we had to turn back. Weather conditions were totally nuts on  that day – 39 degrees (-38F) cold and 120km/h wind gusts on the mountains made the turnback a wise decision. That was a crazy, but awesome vacation and for sure I will go back there.
Written by
Hans Üürike
Performance Manager at
Global Throwing Management
hans@globalthrowing.com